For our 1st ever #FridayFive, we've got Phillip Da Silva who made his debut in the league in September 2017 in the On Point Free Agent League. Every Friday, we'll feature a new player in the league and share their story to our basketball community. We have FIVE questions for the young newcomer.
JA: When did you start playing the game of basketball?
PD: I started to play the game of basketball around my elementary years but I never took it seriously because of the height I carried and also I'm Brazilian so I went along with my bloodline and played soccer very seriously. It took not making my junior high school year soccer team to make me switch and take basketball seriously. Also the growth spurt from 5'3 to 6'0 really helped me out.
JA: What do you love about the game?
PD: What I love about the game is that it has so much expression and story that comes along with just dribbling a basketball or shooting it. For example, you can hoop just because you love the sport, you hoop because that's all you've got, you hoop because you know you're gonna be the next one up, you hoop to help you avoid the bad around you, you hoop to relieve the stress and hurt that you have within or you hoop because you're genuinely happy. Also the history behind it I find beautiful. To know that I grew up in the Kobe/LeBron era and sadly to watch Kobe retire and soon I'll be watching LeBron retire one day and to be able to tell my future kids about it is something I'd love to share with them.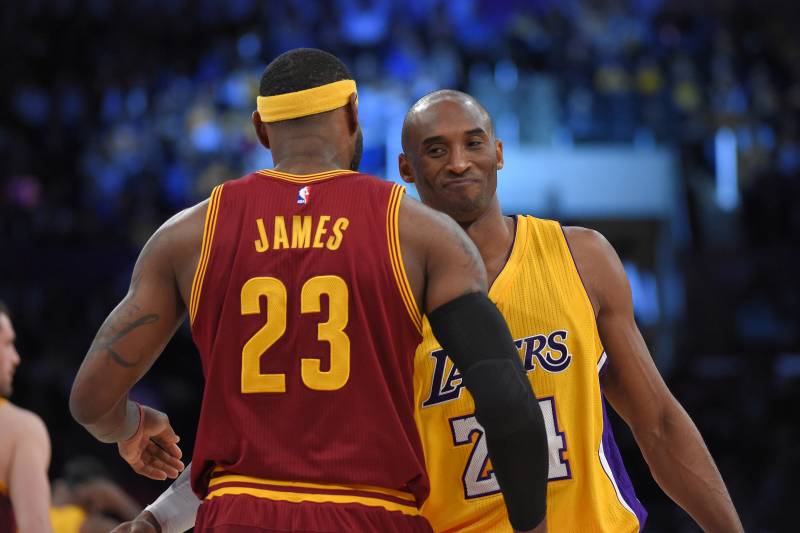 (LeBron James & Kobe Bryant - Photo Credit: Bleacher Report)
JA: Which players did you look up to growing up and why?
PD: The players I looked up to while growing up were LeBron James, Kobe Bryant, Allen Iverson and Michael Jordan. Reason why I looked up to all of these individuals is because even though they all played different and had a different path and glory, they all shared one thing and that was dominance on the court. The ability to not care who's in-front of them but only care and know how to put the ball in the hoop.
(Zach Lavine - Photo Credit: NBA)
JA: You've shown that you can be an offensive force in your first season in the On Point Free Agent league. Which player - past or present - do you think you most resemble?
PD: The player I think I most resemble would be either Zach Lavine or Devin Booker. Reason why I say Zach Lavine is not because I look like him, but because on the court I tend to use my speed and a few dribbles to get to the hoop and pass my defenders. I can run the floor o get the quick and easy buckets, minus the dunks that will be coming soon. I use my athleticism to get the contact and to finish my layups over taller defenders. Reason why I say Devin Booker is because with him being my age he also knows how to get buckets even though his game is different, more shooting and slower movement, he still shows the league that he's grown and in which case I show Megacity the same thing when I'm on the court.
JA: Last question. As a rookie you've turned a lot of heads with your ability to score the ball. What's next for you in terms of your game and what you want improve on?
PD: After my rookie season and losing in the first round of the playoffs in a really close game, what I really want this season is to make it and take my team to the finals. What I'll do or at least try to do while aiming for this goal is to be better on the defensive end, step up as a leader and try to better my teammates around my game so the ultimate goal is to be that floor general for my team. Also I want to improve on my shooting because I went from being the top shooter in another league to bad shooting in the On Point League in my rookie season and that was definitely embarrassing so that definitely has to change. I'm a three point threat and I will show that this season!
Da Silva begins Season #2 later this month in the On Point Free Agent League. Stay tuned for combine and draft details!
Written by : Jesse Asido @megacityceo